Create your own Candy Buffet
One of the great longlasting trends is the candy buffet. Candy buffets not only add additional decoration to your wedding, they can also be a fun, creative favour that your guests will love.
When planning your wedding candy buffet, one of the first things to do, is find decorative containers to put lollies and candy in.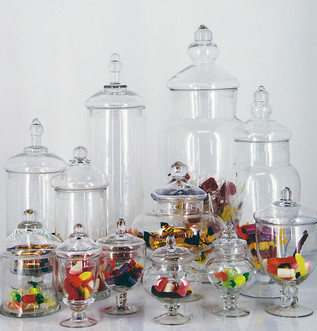 You will also want to pick out other decorative pieces for the bar that will help fit your reception colour and theme. Decide what containers your guests will be filling with candy and taking home.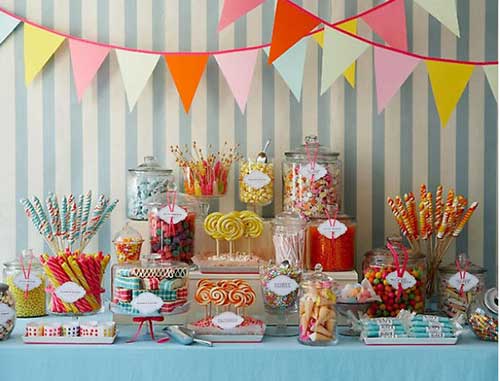 Candy Bar
Choose your Lollies & Candy
Next you will want to choose your lollies and candy. It is always nice to get a few new candy items, but be sure that there are some classics in there that your guests will recognise right away. When deciding how much to get, see how much will fit the container they will be filling. Then multiply that times the number of guest expected. This will give you a rough estimate of how much you will need. Remember it is always better to have too much than too little, especially since some people may be snacking on the bar before it is time to take their favours home. When it comes to selecting the best lollies and candy, you can try to pick items that blend with your wedding colours or theme. When choosing, consider the location of the candy buffet. If it will be hot where it is located, avoid candy that will melt.
Decorations & Placements
Once you have selected your lollies & candy, fill your various containers with each product. Once it is filled, you may want to add a ribbon, feather or flower on or by the container. Whatever decoration you use, be sure the candy buffet is visible to your guests, so they wont have to pick it up to see what is in it. Also it is best to include some scoops or tongs for the guests to get the candy out. Some guests may be apprehensive about taking some if they see everyone's hands in there.
Once everything is ready you can decorate your candy bar any way you like. You can elevate the containers at different levels to show each one off. Adding candles, flowers, or fabric tied to your wedding theme, can make the candy buffet a beautiful addition to any wedding decoration.